We are a family owned and operated business located in North East Edmonton. The owners have lived in Clareview and surrounding areas for over 25 years. They opened Cascade Countertops with the dream of providing a superior countertop buying experience for customers as well as a positive working environment for all employees. As we have grown, Cascade has worked hard to ensure we maintain a small company feel in which all employees are valued and respected as part of a hardworking team.
Our management come from different backgrounds but all have extensive countertop experience. Working together as a team, we strive to provide the best countertop experience possible. Starting from the sales process, our staff would love to help you select the perfect countertop for your home. Our manufacturing team will ensure that the a flawless countertop is made and installed in a timely fashion in your home.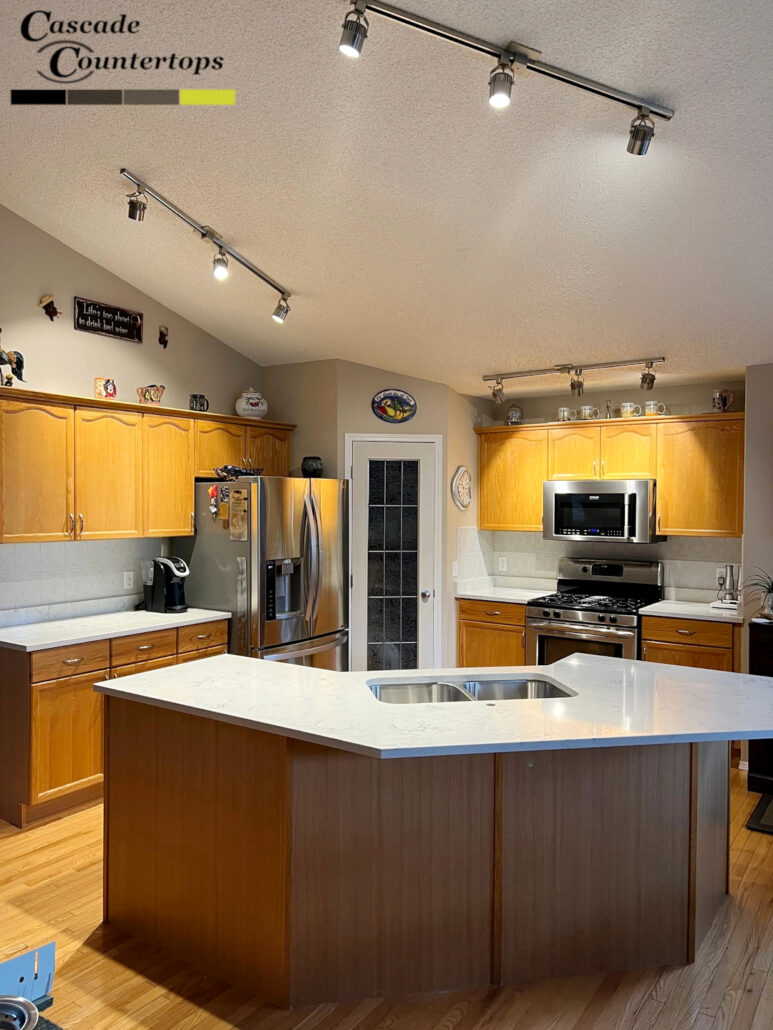 Visit our showroom or Call us
Visit our showroom and speak to a sales professional today to start your countertop journey!
Locally-owned countertop company specializing in quartz, granite, Corian, and laminate. We carry all the top name brands at competitive prices.
QUARTZ

GRANITE

SOLID SURFACE

LAMINATE
Quartz is not only beautiful, but extremely durable and strong too! It is the perfect surface for heavy use and is scratch resistant and nonporous.
Quartz is engineered with pure quartz crystals, combined with a bonding agent and pigment. It is this recipe that creates a non-porous material with a consistent appearance from slab to slab.
Unlike its hard and shiny counterparts, granite and marble, what you see is what you get. You can purchase with peace of mind knowing your custom kitchen will look like the sample. No searching for that perfect slab!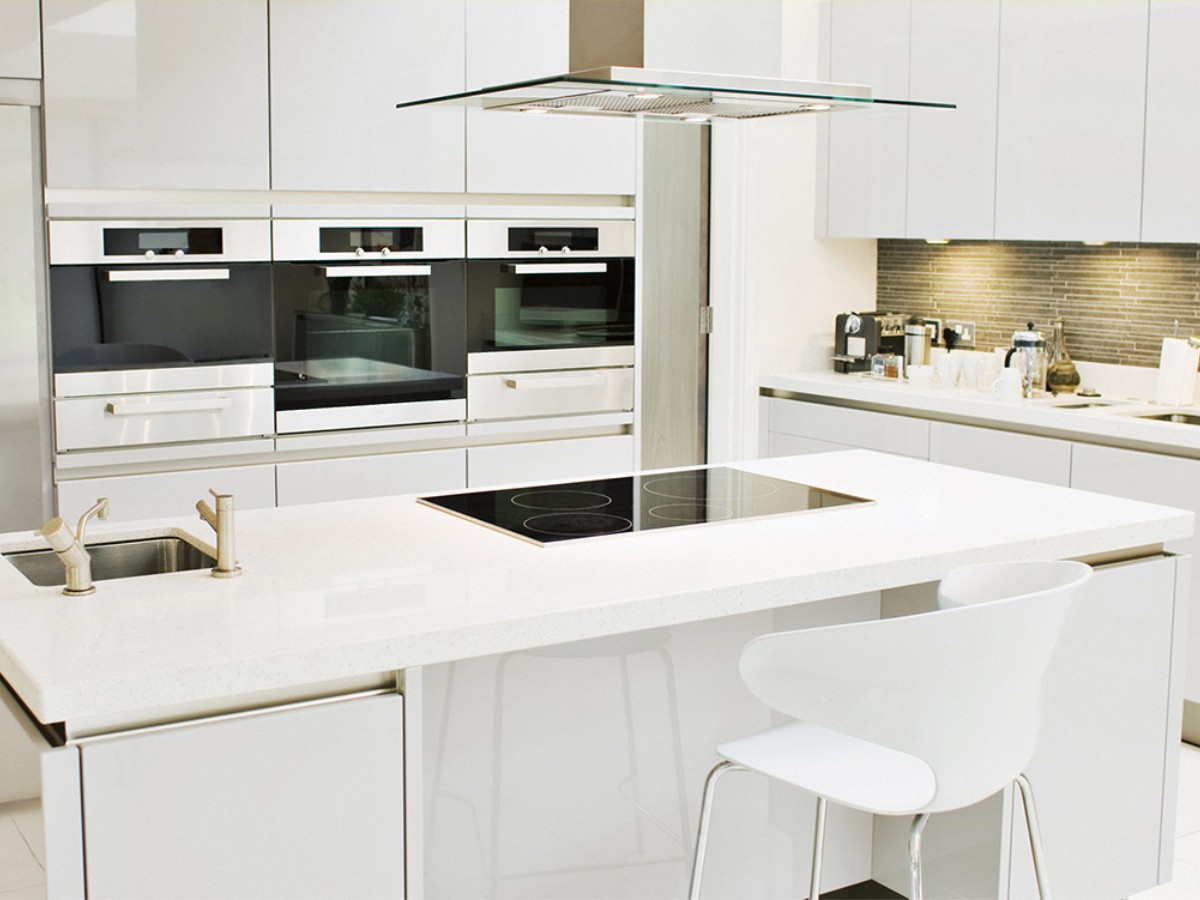 Granite – Unparalleled Esthetics, Authentic and Truly Unique
Granite comes in a wide variety of colours that will be sure to match your kitchen or bathroom perfectly and add a luxurious finishing touch.
Granite is created by nature. With quarries all over the world the colors, veining and textures available are extensive. If you are looking for something truly one of a kind, granite is likely what you will gravitate toward.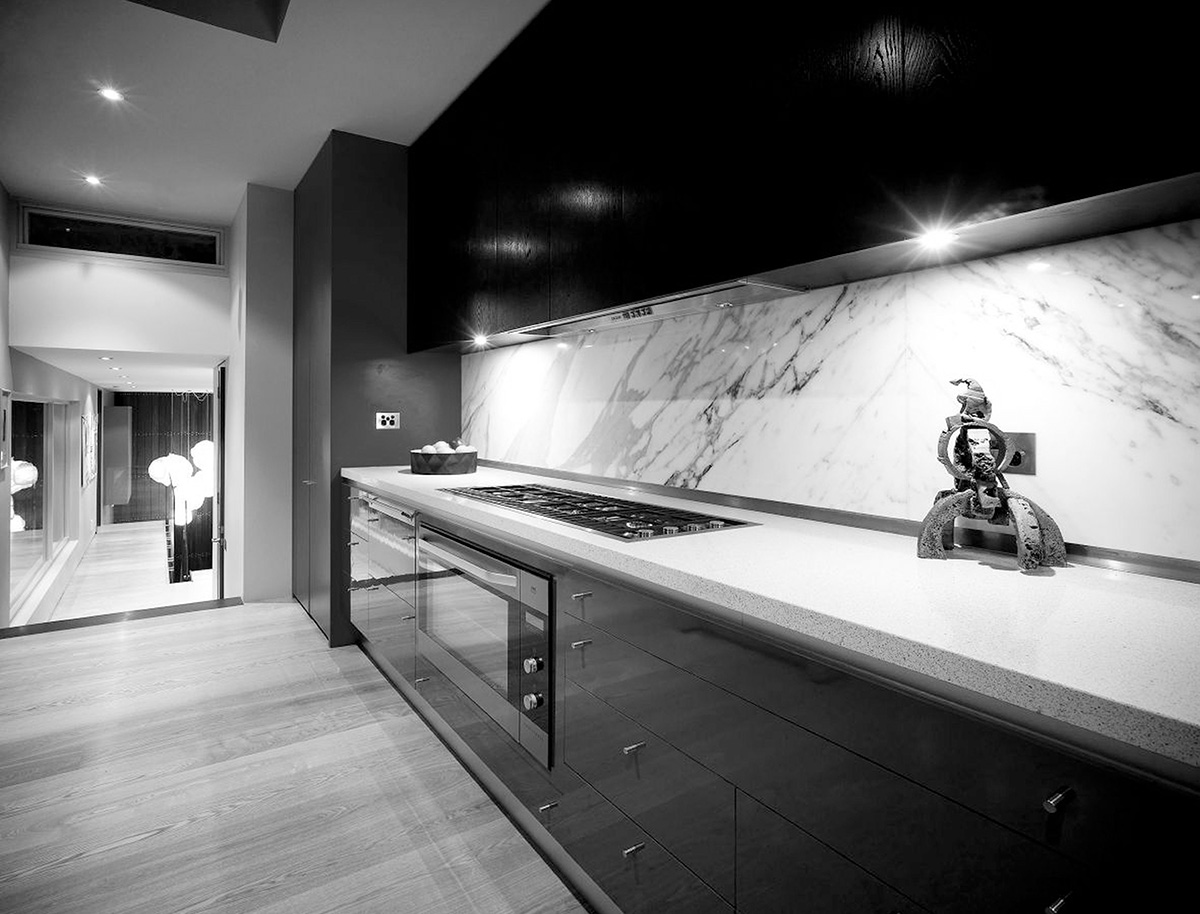 Solid Surface – Warm and Inviting, the Perfect Blend Between Hard and Soft!
Solid Surface Countertops are available in 3 compositions: Pure Acrylic, Pure Polyester, and Acrylic Polyester Blends. All are non-porous and safe for food contact without supporting the growth of bacteria/mold/mildew. This also makes the material easy to maintain and incredibly stain resistant.
Solid Surface countertops are warmer to the touch than granite or quartz and also reflect less light. They have impeccable integration and points of transition.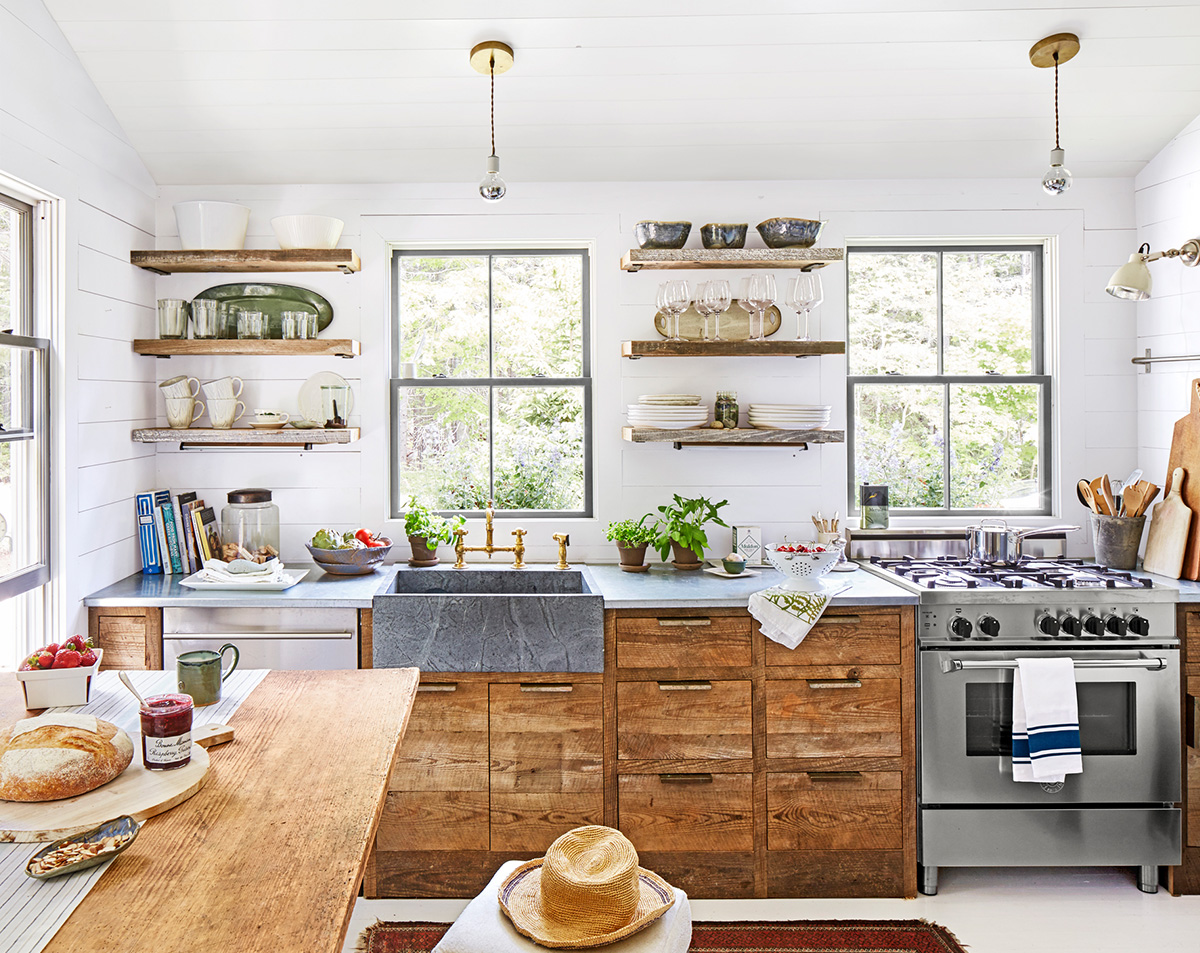 Laminate – Endless Possibilities as Beautiful as They Are Durable
Laminate is constructed with layers of kraft paper with a decorative paper on top pressed together with resins to create a very durable surface.
With hundreds of patterns, textures and colors, there is no doubt you can find the perfect laminate for your project. With the ability to transfer real digital images onto the decorative paper, the capability to mimic natural wood grains or stone patterns is unlike ever before.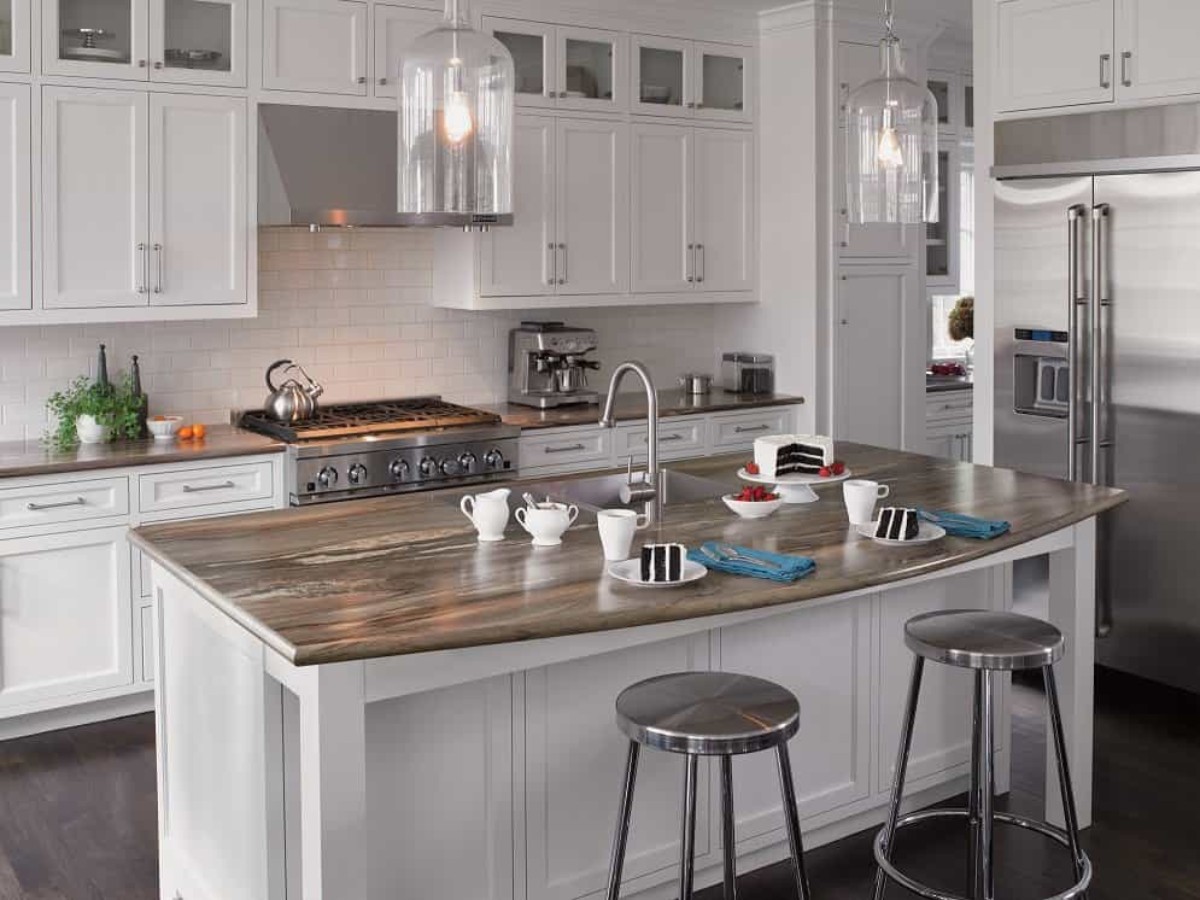 Visit our showroom and speak to a sales professional today to start your countertop journey!

01. Choose Your Colours & Product
Find your dream countertops in colours and textures that work for your home.

Cascade takes detailed measurements and custom templates your space.

Voila! Your custom countertop is built and installed quickly by professionals.
View All

RESIDENTIAL PROJECTS

COMMERCIAL PROJECTS
Visit our showroom or Call us
Visit our showroom and speak to a sales professional today to start your countertop journey!
Latest Reviews
Amazing service. Extremely easy to deal with. I definitely recommend.
We recently had our kitchen done via reface magic, whom use Cascade for the countertop. Superb quality and very reasonable in price. The installers were here on time, looked after everything in a courteous professional manner. Thank you! We love our new look kitchen.
Raquel Cordeiro
2021-06-03
I had quartz counters installed in my en-suite. The service was excellent! The sales Staff are really friendly and helpful and get back to you in a timely manner. The installers were very good as well. My only complaint is I had to wait a little longer than expected for my counter top to arrive (due to Covid). Otherwise no complaints. My parents also had quartz counters installed in their kitchen and bathroom and were very happy with the service as well- and my dad is picky! I would go through Cascade again for future renovations.
I own a home building and renovation company called "Attica Homes" I use Cascade Countertops every time! Always great service and the countertops are beautiful! Recommended FOR SURE!!
Colleen Ornawka
2021-05-06
Fantastic customer service and beautiful selection! The prompt, friendly and knowledgeable staff strive to make their customers happy. We are ecstatic with our new Caesarstone Montblanc quartz countertops! In addition to the countertops, the installers also expertly installed our new undermount sink and faucet. We appreciate the exemplary customer service from Jenn, Mary, Dan and the installers. We will be highly recommending Cascade Countertops to friends and family.
I just had quartz countertops installed in the kitchen and two bathrooms. The fellow who came to do the measurements was incredibly detailed and the installers were friendly and professional. No wall in my house is close to square but the counters fit perfectly and look amazing.
The Lore Group – Coldwell Banker Fort McMurray
2021-04-07
I have just had a horrible experience with Cascade countertops. I attended the store, picked out my quartz and paid my deposit. My full kitchen plan was provided to Cascade along with the details that I was in a second floor condo. All went well until not long before the install is scheduled to occur they send me a final plan to sign that shows my island quartz being cut in half. They assumed there was a freight elevator in a 4 storey residential condo and never bothered to ask. There is not!! So they just decide the right thing to do is cut it in half. They refuse to bring it up the stairs and tell me it weighs 900 lbs which is an exaggeration because they don't want to bring it up the stairs. I offer to pay for a crane or something to lift it to my balcony and they tell me they cannot help me with arranging this. They make no efforts and offer no suggestions as to where I might be able to seek help with this as I am trying to problem solve. When I arrange this on my own they communicate with the contractor that I have hired, paid and arranged for on my own and give him so much cause for concern he understandably backs out. I decide to change my order to an even lighter weight so that they can bring it up the stairs or maybe hire a professional moving company to assist. Two days before install is scheduled and all the trades are lined up behind them they back out. This company should have attended the site from the beginning or asked key important questions about the location and access to my condo from the beginning. If they couldn't accommodate the job they should have let me know this so that I could hire another company. The manager promised to call me back and instead he made one of his office staff deliver this news to me.
Dan Timmermans
2020-12-17
Very happy with service from Cascade. Had quartz installed today for main bathroom. No issues with measurements (done ahead of time) professional and safe install (Trevor and Jarred arrived masked and stayed as distant as possible). Job done well, reasonable price, super friendly and knowledgeable. Will use again. Thanks so much!